There is such a great story behind this trailer and how I came to purchase it!
When I first decided to go with an enclosed trailer conversion and that I would NOT be buying any toy hauler that was built by an RV manufacturer, I combed over Youtube watching every video I could find of others converting their trailers to either a camper or a camper/toyhauler.
I created a folder in my Youtube account and kept all my favorite videos on various builds to reference in my own build once I found a trailer. One in particular I really loved. Here is the original video of the trailer. Keep in mind, I had watched this months earlier before finding it locally here in Olympia, WA.
I had been surfing Craigslist regularly for enclosed trailers and then one day I spot it, the same trailer that was in the video for sale in Olympia! I couldn't believe it! I was so excited. I called and spoke with Mike (turns out he was the 2nd owner) and setup a time to come look at it.
I met Mike at a covered storage unit and began looking the trailer over. It was in perfect condition and you could tell Mike really loved the trailer and put his heart into it when he built it.
You see the trailer was actually ordered by the original owner with the shower/toilet combination along with all the plumbing, but everything was electric. There was no propane at all when the trailer was ordered/built. The original owner's wife thought the trailer was too small, so he took it back and then ordered a bigger one.
That's where Mike found it, sitting on the lot and bought it. Mike then went to work insulating the trailer and added cabinets along with sink and counter top. Mike did all the finish work himself and the interior of the trailer is awesome! Mike and his wife were camp hosts and were able to hook up to shore power, so having no propane wasn't a problem. I do think Mike ran a hose in for propane at one point, but when I got it, there was no propane at all.
Eventually Mike and I struck a deal on the trailer and I purchased it for $13,000. I feel it was a good value as the trailer was fairly new at the time (2016) and the amount of finish work that Mike had done was amazing. The trailer was also ordered with an upgraded package including extra height and screwless panels which give it a really clean look. Here's a look at some of the options:
The manual jack was actually broken when I went to pick the trailer up initially, so I had to return a week later and replaced it with a new electric jack.
Once I got the trailer home and parked, I really didn't do a whole lot with it right away. Winter was setting in here in the Pacific Northwest and once it starts raining, it seems like it never stops for 8 months. So I bought a huge tarp and we buttoned the trailer up for the winter. I would go out every once in a while and climb in to change the pellets in the Dri-z-air and do a little bit of work, but for the most part, I didn't really start to get after it until Spring.
There was a metal storage box screwed to the wall that I removed. I also removed all of the current window coverings including some RV blinds. I also had to remove the Happy Jac electric bed system. There just wasn't enough head room to clear when pulling the Teryx in.
I patched all the holes with putty and touched everything up with paint that Mike was kind enough to give me when I bought the trailer.
One of the goals I was after when I purchased the trailer was to have it ready for Rally in the Pines 2018 in Salmon, ID. While we were ready and actually made it to Salmon on time, I never made it to the Rally. I'll explain more on that in another post.
I knew I would be pressed for time to get the trailer ready. There was so much to do! I had to figure out the bed system, get propane plumbed in for everything, get batteries, battery box, 30 lb propane bottles and rack, refrigerator, solar system, inverter installed and wired up, and the list goes on.
My brother Jim to the rescue!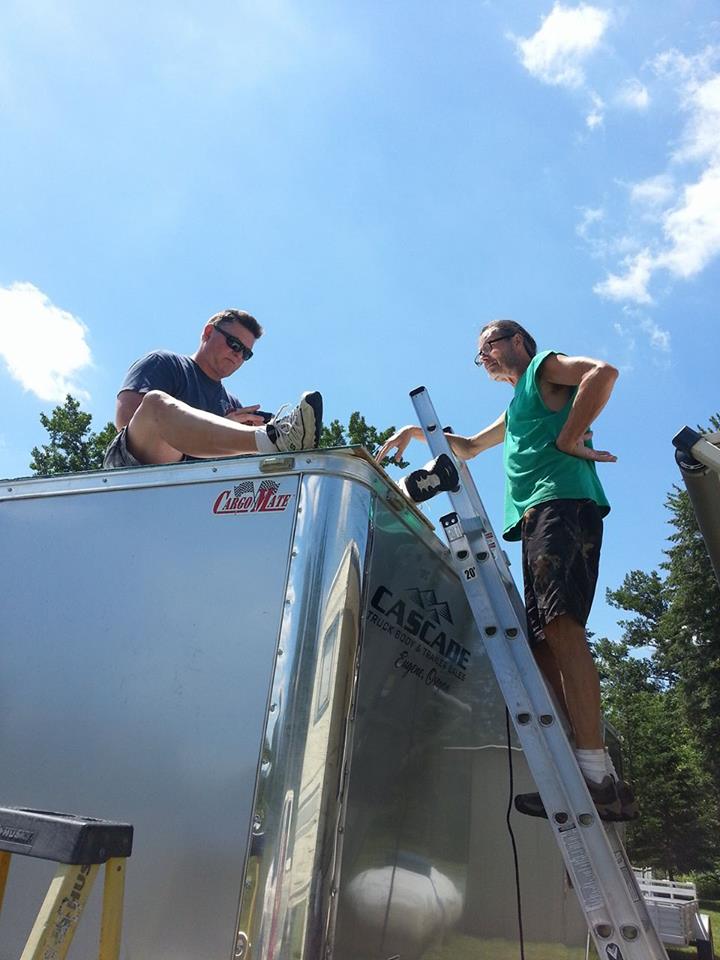 Every year in June, my oldest brother Jim comes to stay with us for a couple of weeks in his 5th wheel. His wife Annie and Jim are retired and RV full time. This year Jim showed up early in June to help me finish up the trailer, or at least try! lol
So for almost the entire month of June, I worked all day, worked on the trailer every night until dinner, then partied with Jim and Annie, and then off to bed. By the time we left on July 4th, I was already exhausted! But I digress… back to the trailer.
It's hard to remember the exact order we did everything. I was ordering "stuff" from Amazon almost daily and Jim was making several runs back and forth to Home Depot getting plumbing parts and other things we needed as we went.
Probably the toughest thing we did was cleaning and sealing the roof. We had some serious hot days and the roof would get so hot you couldn't even put your hand on it. We needed to scrape all the old putty off the seams, clean the roof, then primer the seams, lay down Eterna Bond tape over them (4″ Tape) and finally roll out Ultra Roof Seal to coat the bare metal roof. We ended up rolling on 3 coatings and it was amazing how it cooled down the roof and trailer.
Before we started on the roof, we installed the new Maxx Air fan in the old location where the bathroom vent was.
Inside I had to remove all the cabinets so we could get access in to the left front corner to install the Instant hot water heater, a 12 Volt AGM battery and my Xantrex 2000W pure sine waver inverter. We did run into some heat issues with the instant hot water heater. We ended up moving it down, adding some fire proof hardie board on the ceiling and made up our own heat shield.
For clothes/shoe storage, I purchased an armoire from Amazon and we mounted that in the corner and molly bolted it to the outer bathroom wall. It's plenty big enough and is solid, no need to worry about it shifting.
Initially I thought I would be able to leave the Happy Jack bed system in the trailer and somehow fit the Teryx underneath, but in the end it just wasn't going to work. So I removed all the hardware and the platform and bought 2 x 8′ pieces of grey etrack, cut those down to 6′ and mounted them on the wall.
I use 10 2×4 holders in the etrack, then lay our 2 sheets of plywood across the top. We have 2 XL Twin mattresses that are super comfortable and they store very nicely behind the wheel wells when we're traveling with the Teryx inside. It also allows some flexibility, for example if only I'm going somewhere with the trailer, I can "shrink" the bed size down and have more room and make a "couch" like setup with the extra mattress.
That covers most of what was done on the inside. In the bathroom, I replaced the shower curtain rod with a new one and also put in a new Dometic 310 toilet with a glass bowl and sprayer.
Out front I added a new battery box from RVLockbox.com with 2 x 6 volt batteries and 2 x 30lb propane tanks. Everything was purchased new, the tanks, regulator, rack and then we used 1/2 inch black pipe to run underneath the trailer. We came up underneath the floor in 2 locations.
One came up through the floor where the 40 gallon water tank is with a T and then one hose was ran up to the Instant hot water heater and the other we put a quick disconnect on the end to run up through the counter for use with any low pressure appliance on the counter top.
The other came up just on the other side of the bathroom and another hose runs over to the Wave 6 catalytic heater mounted on the wall.
We also ran one pipe over to the passenger side just in front of the wheels with a quick disconnect for an outdoor BBQ or other low pressure appliance. There's one main shutoff on the line just in front of the trailer outside that turns off all the gas inside.
For now to charge the batteries we're using a portable 120 watt system I purchased from Gopower. I also purchased an additional 35′ of cable so we can move the solar panels to almost any location regardless of where we're parked. On our recent trip to Idaho, the system worked great to power our dorm fridge, lights, fans and Renee's Cpap machine at night. The lowest we got was 68% and most days we easily recharged to 90%. You can see a port on the battery box so we can just plug the solar panels in without removing or opening up the battery box.
If you've read this far, thanks for staying with me! Here's a short 20 minute video I put together to show some of the interior and some other things I didn't cover above.
I had originally planned on taking a lot more pictures and doing videos along the way, but we were just in too much of a hurry to get things done so we could roll out on July 4th to the Rally in the Pines. I'll do a write up on that trip at some point and link to it from here.
Thanks for checking out the trailer, it's really turning out nice!